My personal experience with religion
I left the Lutheran Church at 21 after I had lost my faith at 14 because of a minister who was a total failure, unable to respond properly to the questions of a mind that was entering into rational thinking. He certainly isn't the only one, then or now, who have not the least ability to awaken and maintain the interest of young (and older) people in the transcendent reality. Otherwise, religion and Christianity wouldn't be so denigrated and undervalued in the West as it presently is.
I am coming to a deep understanding of my roots embedded in Christianity now, after 50 years, thanks to a person who can explain these things in ways that people grounded in rationality can understand and realize with awe that we have thrown out the baby with the bathwater. There are so many things to discover which help us understand ourselves and the world as it presents itself today!
Children like the biblical stories!

Like many children, I was attracted by the biblical stories. They were fantastic, like fairy tales, and children adore this kind of thing. At 12 I had to go to the preparation lessons for the confirmation, an initiation ritual of the Protestant Church which you don't want to miss as a child. For the first time in life everything is about YOU, relatives from all parts of the country come together in their best clothes, they watch you when you "perform" in the service where your heart beats when being officially admitted in the congregation of the adults, and, well, the many gifts you get that day. I got enough money that day to buy a tape recorder, those huge and heavy things which were the technical highlight then. So no wonder that I didn't really have the choice to not go to the preparation lessons although I disliked them and the minister. The previous excitement about the Bible turned into aversion and the desire to get away from all that and as far as possible.
Goodbye to Religion
What was intended the first day of belonging to the religious community turned out to be my one and only day there. Many years later I led the choir of the German church in Rome. When, after a long time, they found out that I was not an official member of their church I was pushed to become one again. I compromised myself by doing it in order to be able to continue my job there, but the negativity I felt as a 14-year-old arose again, strongly. It certainly didn't foster my relationship to religion and Christianity and it continued to keep me in ignorance about the foundations of the religion.
Christianity is at the root of our Western Culture!
During my early adulthood, Buddhism and Transcendental Meditation became a fashion among us "different" people. It seemed to be normal to become a Buddhist but I always hesitated. It didn't feel right to me, although I couldn't articulate why not. Later, in the 90ies, I began to learn meditation and many other "esoteric" modalities. It was very useful for many reasons. I had been very interested in Psychology and only very slowly did I discover my yearning for Spirituality. But still, the fashion was Eastern Spirituality. Western religion seemed old and odd and had nothing really to offer which could have attracted me.
Nonetheless, I was sure that, whenever I would dive deeper into religious thought or belief, it would only be possible with Christianity. It has completely formed my culture, we Westerners have breathed it in from birth, if not with "church" so with all the achievements of our culture, from art to music, philosophy, science, architecture, everything. Adopting another cultural system seemed interesting but certainly, wouldn't bring me to my roots. How could it.
Making Peace with Christianity
So I remained "homeless" religion-wise until I discovered Jordan Peterson. He gives me back my religion. He can explain the things in a way which makes complete sense to me without returning to "belief" as the traditional religions do. He is opening my mind to an understanding which really blows me away and leads me to a deep gratitude towards our ancestors and their relentless attempt to reach understanding and wisdom – by telling stories.
This is what helped me to integrate my culture more fully
The awe started in the first talk of his lectures on the Bible called: Introduction to the Idea of God. God is an idea, not a "reality" of any kind, let alone the old man with a beard sitting on the cloud.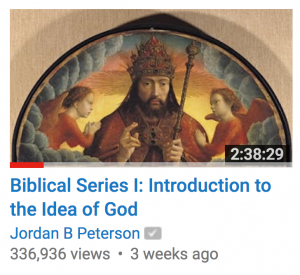 And yet, I began to understand why "He" is represented this way: it is the attempt of wise people in their time to tell a story which couldn't be articulated in any rational ways. Rationality had not yet emerged, as we know from integral theory. This happened in the Renaissance fully, but the Bible is so much older than that and needed another way of explaining: telling a mythological story.
I certainly cannot summarize with half a paragraph a 2-hour lecture and maybe for you, something else stands out when you watch it. But I want to tell you about another big insight I received when listening to the third lecture: Christianity seems to be based on different principles than Buddhism. So far, to me, both seemed to be completely different. In "God and the Hierarchy of Authority" Jordan Peterson comes to a description of the Trinity in Christianity which seems to match the basics of Buddhism. He defines the three elements in the Trinity as such: "God" is the infinite space of possibility from which all form arise (the ground of being which I heard mention so often in meditation practices). The "Holy Spirit" is Consciousness itself and "Christ, the Son of God" is Consciousness in its specific form in space and time, the embodiment of possibility.
Understanding what we have ignored – a huge gift!
I hope I got that right with these few words. Listening to Jordan Peterson's thoughts is a continuous "click, click" in my understanding, and history is opening up to me in an unexpected way. I begin to appreciate the past, the endless endeavor of humankind to understand life and how best to live it. The dismissal of previous times which is an underlying thread in our Western world, the arrogant feeling of absolute superiority of our present world, which declassifies everything else as "primitive", has been dismantled and transformed into recognition and appreciation of the past. We are the result of thousands and millions of years of endless attempts to evolve a culture where we humans can find meaning for our lives on earth. We don't just "begin" with our birth as a blank slate where we can write our life story at our own individual will. "It is more complicated than that", using Jordan Peterson's words. We, modern people, want to have everything easy and simple. But life is not like that. And striving for the easy button and believing that we are separate entities, independent from others, from the past and future and only existent in our physical reality deprives us of the richness of existence and the depth of experience. And most likely it causes us to fall into deep pits because of our self-induced blindness towards the complexity of existence.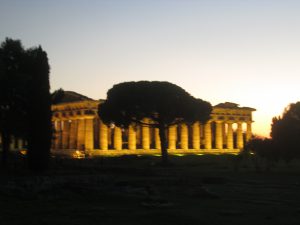 Presently we humans dwell near the border of a self-created abyss. If we continue to ignore the lessons of the past as well as reality which is not based purely on the material world but which includes the invisible and transcends our being, we have a good chance to fall into that abyss and we will have a very hard time finding our way out again. Maybe hundreds or other thousands or millions of years depends on how good we are in understanding the real threat we are facing: the destruction of our culture without envisioning any alternative. Humans are capable of total destruction, you and me and everyone else. Unless we dig deep into our own psychology and understand this force in ourselves, we inevitably act it out in the opportune moments without then having the possibility to stop what we are doing.
We need to grow up and to wake up to the whole reality of being in this world. Deliberately ignoring one part or the other leads to any sort of fundamentalism with all its destructive powers. We need to learn and understand and hold the space for multiple perspectives. Then we need to step up and speak "the truth" about what we see and understand. No longer believing in doctrines and ideas which transform us into "innocent" and ignorant sheep, victims of who knows who. And seeing the Bible and Christianity with new eyes we can learn our ancient innate knowledge about the psychology of humans – which hasn't changed very much, after all, during the last some thousand years.