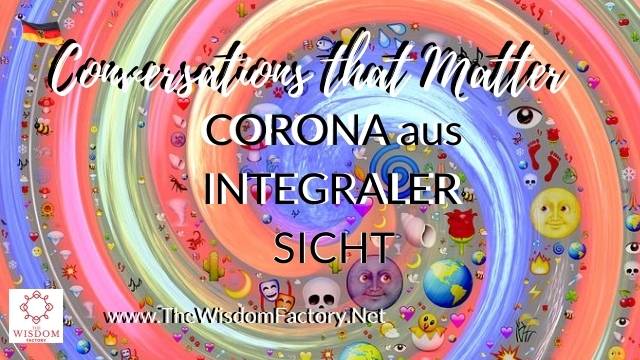 Meine Liebe,
Danke für Deine Antwort auf mein Schreiben, in dem ich die Coronamaßnahmen als unverhältnismäßig bezeichne und dass sie mehr Schaden anrichten, als der Virus selber. Ich glaube, daraus zu hören, dass Du frustriert bist und es Dir schwerfällt, zuzulassen, dass andere Leute andere Weltsichten haben als Deine im gegenwärtigen Moment. Weltsichten ändern sich mit der Erfahrung. Wenn Du zurückdenkst, als Du 5, 10 oder 15 Jahre alt warst, da hast Du über die Welt bestimmt ganz anders gedacht als heute. Und wie Du die Welt sehen wirst in 5, 10 oder 20 Jahren ist kaum vorhersehbar. Unsere Weltsichten verändern sich in dem Maße. wie unsere persönliche Entwicklung verläuft, wie wir wachsen und reifen.
Die Stadien der menschlichen Entwicklung sind reichlich erforscht und auch die Bewusstseinsebenen, zu denen die Menschen Zugang haben. Jeder Mensch kann in seiner Entwicklung irgendwo Halt machen, obwohl er weitergehen könnte, aber es gibt viele Faktoren, die eine Weiterentwicklung behindern. Momentan sind  6 Bewusstseinsebenen in der westlichen Welt bei einer größeren Anzahl von Menschen vorhanden, angefangen mit der reinen Überlebensebene, über die  egozentrische, ethnozentrische zur weltzentrixhen  Ebene. Auf jeder Ebene haben die betreffenden Menschen ganz andere Weltsichten und Werte, das, was sie für wichtig halten ist oft diametral verschieden. Je mehr Ebenen Du selbst erfolgreich durchschritten hast, desto besser kannst Du die Bedürfnisse der vorangegangenen Ebenen verstehen, denn da warst Du früher ja auch einmal, aber du siehst nicht die Weltsicht der darauf folgenden Ebenen, denn die kennst Du ja noch nicht.
Es ist charakteristisch für die ersten 6 Ebenen, dass sie voll überzeugt sind, dass Menschen, die anders denken, komplett daneben sind – weil Du selber in Deiner Entwicklung erfahren hast, dass deine damaligen Ansichten zu limitiert waren, deshalb bist Du ja weitergegangen. Oder die Menschen sind noch am Anfang des Weges und können gar nicht sehen, was noch kommen würde  für sie, wenn sie weitergingen, und es daher nicht verstehen können, was die anderen denn da so sagen und tun.
Ab der 7. Ebene kann man sehen, welche Wahrheiten die einzelnen Ebenen zum Ganzen beisteuern können. "Nobody is smart enough to be wrong all the time", mit anderen Worten: jeder hat ein Stück Wahrheit in der Hand, aber eben nur ein Stück, nie die ganze Wahrheit, die es als Absolutum nicht gibt.
Im Moment herrscht Krieg auf der Welt, der Meinungskrieg ist ja ziemlich deutlich auch unter uns. Wenn die eigene Meinung zum Fundamentalismus wird, wenn man sich nicht mehr austauscht und gemeinsam versucht, zu besseren Standpunkten zu kommen unter Einbeziehung von so vielen Perspektiven wie möglich, dann kommt es zum totalen Krieg, wie er gegenwärtig herrscht, wenn Menschen für das, was sie sagen angegriffen, verunglimpft und beruflich vernichtet werden. Leider sind da auch viele Menschen, die schon die 5. Und 6. Ebene erreicht hatten, und jetzt auf die 4 Stufe in deren  pathologischen Form zurückgefallen, in den Fundamentalismus: "Was ich sage ist richtig, alles andere muss gelöscht werden", z.B. auf Youtube. Vor 80 Jahren hätte man die Bücher verbrannt, der Mindset ist der Gleiche.
Wenn ich also bestimmte Sachen in der Familie anspreche, kommt das aus meinem Jahrzehntelangen Wachstumsprozess durch die Ebenen, der oft sehr schmerzlich war, aber ich bin dankbar heute, dass ich gelernt habe, die DInge aus der mir maximal möglichen Anzahl von Perspektiven zu sehen. Das ist etwa so, wenn man, statt mitten im Wald zu stehen und nicht zu wissen, wohin man gehen soll, von oben herunterschauen kann und aus dieser Perspektive erst sehen kann, wo genau man eigentlich ist und wie man aus dem Wald hinaus kommt..
Dein Vater hat mir mal ein Buch gegeben über den Nationalsozialismus in Coburg, unsere Stadt, die den traurigen Rekord hat, die erste gewesen zu sein, die mit dem Nazitum ernst gemacht hat. Ich stelle mir vor, wie unsere Eltern als Kinder in dieser Atmosphäre von Unrecht, Verleumdung, Entwürdigung, Misshandlung und Propaganda hatten aufwachsen müssen. Später sagte unsere Mutter immer wieder: "wehret den Anfängen". Wir hatten uns so sicher gefühlt, dass so etwas nie wieder geschehen könnte, wir haben daran geglaubt, dass unsere Regierungen gut seien und die Dinge schon für uns richten würden. 
Aus meiner  jahrzehntelangen Illusion über die Realität in unseren Ländern bin ich vor einigen Jahren aufgewacht durch Geschehnisse, die ich mit eigenen Augen beobachtete und durch unbezweifelbare Belege zu einigen Dingen, die passiert sind. 
Jetzt bin ich diejenige, die der jüngeren Generation sagen möchte "wehret den Anfängen" – obwohl wir jetzt die Anfänge schon weit hinter uns gelassen haben. Ihr seid diejenigen, die ihr die gegenwärtigen gravierenden Fehler Euer Leben lang ausbaden müsst. Tut alles, euch umfassend zu informieren, von wirklich allen Seiten und überlegt selber, was Sinn macht und was nicht. Schaut nach, wo Ihr ideologische Haltungen habt, anstatt nach den Tatsachen zu forschen. Sucht nach blinden Flecken in Eurer Wahrnehmung, in eurem Denken und in eurem Herzen. Glaubt nicht, was die anderen sagen, wenn ihr es nicht selber einer eingehenden Prüfung unterzieht. Und seid Euch dessen bewusst, dass sich Eure Einstellung zu den Dingen ändern wird, wenn ihr über einen größeren Weitblick und über mehr Informationen verfügt. Haltet nicht an Ideologien fest, wenn Ihr erkannt habt, dass da etwas faul daran ist. 
Habt keine Angst, Euch zu entwickeln. Die Evolution geht weiter, auch gegen Euren Willen. Aber freiwillig sich auf den Weg zu machen dürfte letztendlich weniger schmerzhaft sein als das verspätete Aufwachen, wenn die Scherben schon auf dem Boden liegen.
Wenn Du mehr erfahren willst, dann kannst Du Dich gerne an mich wenden.
Hier ein Interview mit Wulf Mirko Weinreich, das den Dingen genauer auf den Grund geht